Green, affordable, highly secure:
store your data with German Edge Cloud at the Lefdal Mine Datacenter.
Several hundred meters below the surface in a disused mine lies one of the safest, greenest, and most cost-efficient hyperscale data centers in Europe: the Lefdal Mine Datacenter.
This Tier III data center meets all the security-related requirements of a German data center, runs on 100 percent green energy and natural cooling from the mountain rock, and takes flexibility to a whole new level.
With 120,000 m² of space, you can decide exactly how much dedicated space you need today or tomorrow, and which of Rittal's specially developed and individually adjusted high-density IT containers are best suited to your requirements. You can also choose between self-service or a fully managed solution from the experts at German Edge Cloud.
Your benefits at the Lefdal Datacenter and
with German Edge Cloud as your partner.
Choosing a data center is never just a technical question.
Below, we briefly list the factors that need to be considered:
At a glance
Maximum data security: protected Tier III underground data center

High performance: up to 50 kW/rack with lower costs for computing power, cooling, and space

Low energy costs: effective air conditioning technology thanks to a direct fjord connection and electricity from renewable energy sources

Flexible design: individually configurable hardware solutions and operating models from self-service to fully managed

Innovative use cases: HPC or hybrid cloud models possible
For decision makers
Maximum data security: protected Tier III underground data center

Scalable and flexible use of space: 120,000 m² open space on 6 levels in 75 underground halls

Reduce costs and increase sustainability: low electricity prices, efficient use of energy from sustainable resources such as hydroelectric power, and favorable floor space

Excellent connections: connected to communication and fiber optic networks, local road network, shipping port, two local airports, local heliport
For engineers
Certified security: Tier Level 3, IBM Level 3, ISO 27001, ISO 14001, ISO 9001

High scalability: from 50 m² cages to 800 m² hall

Easy to control: SLA guarantee, ticket system, remote hands with helmet camera and live streaming

High redundancy: 2N water cooling, 2N UPS, 2N PDU, 2N Network, N+1 generator backup
The Lefdal Mine – safe, affordable, green.
The Norwegian factor.
Norway is one of the safest countries in the world – and one of the strictest when it comes to protecting personal data. As a member of the European Economic Area (EEA), Norway has also integrated the EU General Data Protection Regulation (GDPR) into its legislation. In addition, Norway is committed to green energy with lower taxes.
Power consumption and cooling are the key cost factors when it comes to data center usage. The Lefdal Mine Datacenter boasts a guaranteed PUE of 1.15 and an average electricity price of 5 cents/kwh, especially for energy-intensive data center applications.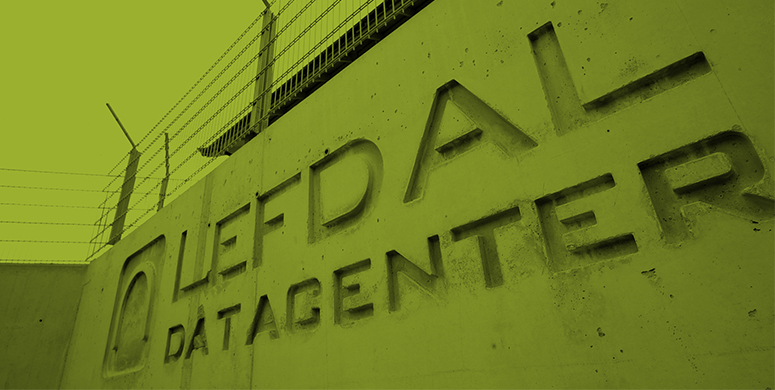 Reduce costs. Promote sustainability.
Companies that locate their data at the Lefdal Mine benefit from a green footprint through CO2-neutral energy and significant cost savings of up to 50 percent.
The reason for this is that Norway is among the countries with the lowest fees and charges for electricity.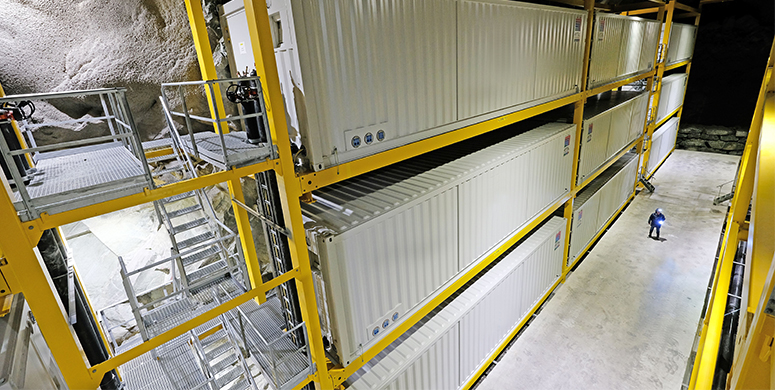 High data security.
The Lefdal Mine is setting new standards not only in terms of cost reduction and sustainability, but also in terms of security. In addition to the remoteness of the site itself, an intelligent surveillance system and specially trained security personnel protect the entire site around the clock. In addition, the Tier 3 data center holds IBM Level 3, NSM standards as well as the relevant ISO 14001, ISO 9001 and ISO 27001 certifications.
Benefit from the performance of Lefdal Mine
and the solutions of German Edge Cloud.
Solution
Self-service cloud
Manage your IaaS resources at Lefdal Mine independently via a multi-region OpenStack Management Plane (SaaS) provided by German Edge Cloud, via API access or via web front-end.
Solution
Fully managed private cloud
Define your IaaS requirements with German Edge Cloud and get a fully managed environment on a shared or dedicated VMware stack.
Office Services
Long-term data storage
Store your data in a highly secure environment at a lower cost. The massive rock walls protect your data from the outside world while reducing the cost of cooling your systems.
German Edge Cloud answers frequently
asked questions about the Lefdal Mine Datacenter.
What is a Tier III data center?
Data centers are generally divided into availability and security levels. There are a number of different standards that apply here. In Europe as well as in North and South America, the tier standard of the Uptime Institute has gained acceptance. In Germany, the standards of the TÜViT also apply, which differentiates between data centers in availability classes rather than in tiers. The Uptime Institute's classification system ranges from Tier I (simple) to Tier IV (highly complex). Tier III is the international standard that has become established among professional cloud providers. The maximum downtime (averaged over 5 years) is only 1.6 hours per year.
What makes Lefdal different from other Tier III data centers?
The Lefdal Mine Datacenter is classified under the international Tier III standard, but differs significantly in terms of security and sustainability thanks to its unique geographic location and characteristics. By utilizing the natural environment, the Lefdal Mine Datacenter achieves a PUE of 1.15, making it far more efficient than a German data center with an average PUE of 1.8.
What is the reason for cost savings of 50 percent?
High-performance infrastructure requires a corresponding supply of resources. Cooling and electricity are among the largest operational cost drivers. With the use of the fjord for natural cooling and the low electricity tax rates, the operational costs are less than 50% of the costs in a German data center.