IoTelligence:
It's all in the analysis
IoTelligence:
It's all in the analysis
Spotlight on production efficiency
Gain a comprehensive overview of your production processes in near-realtime! Make well-informed decisions and boost your production efficiency like never before.
Data isn't much use if it's stuck in a data silo. Consolidated data with the correct correlations not only maximises your production efficiency, but also illustrates the effects of changing production situations in near-realtime. This allows you to deduce the correct findings from the data and base your decisions on facts.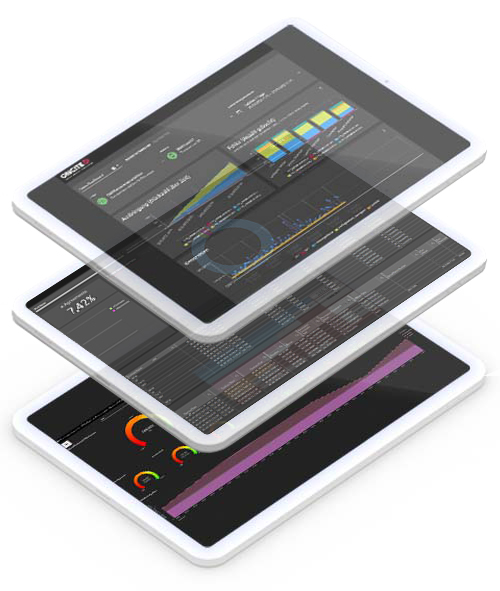 Extracting and analysing production data
IIoT-assisted production management
The basis for production optimisation
Smart algorithms and modern data analytics tools like those included with the ONCITE Digital Production System give an accurate picture of the data situation in your production system, allowing you to selectively aggregate data views and detect even the tiniest anomalies. This means you can step in before the problem escalates. This data-driven approach helps to avoid machine downtime and optimise your production processes, quality and efficiency.
Your benefits and added value
Cost savings
Optimising production processes and preventing machine downtime helps you cut costs and utilise your resources more efficiently.
Improved quality
With a comprehensive data overview and the ability to spot anomalies early on, you can boost your production quality and minimise wastage.
Flexibility and adaptability
Respond quickly to changing production requirements and flexibly modify your production.
Competitive advantage
Stay one step ahead of the competition with data-based decisions and an efficient production system.
Transparency and compliance
Full transparency about your production processes is beneficial for compliance and maintaining high quality standards.
Deriving production strategies
Collating and evaluating production data helps you identify long-term trends and optimise your long-term production strategies.
Smart Factory Apps
Easy integration of software services for demand-driven and cost-effective production optimization.
Virtual Factory
The digital production twin - allowing manufacturing companies to be more adaptable and efficient.
Energy Management
Transparent analysis and tracking of energy consumption in manufacturing - for improved efficiency and more sustainability.
Low-Code Application Development
Composable architecture guarantees greater agility and maximum resilience in the age of IoT solutions.