Condition monitoring
in near real time.
Condition monitoring
in near real time.
Replicating a real factory in the virtual world
Where are the production bottlenecks? Which modifications to the real factory are beneficial?
These are just some of the conclusions can be drawn using the "Virtual Factory" service within the ONCITE Digital Production System. This digital production twin is used for the acquisition, representation and analysis of factory data. The "Virtual Factory" service allows you to build production plant that is more efficient and adaptable. The option of replicating the factory in near-realtime via 3D visualisation means that potential bottlenecks and problems are rapidly identified. This, in turn, helps boost your production efficiency and flexibility.
Key-Features
Quick and easy mapping of the production status in 3D.
Create dashboards easily, for a combination of visualisation and widgets with data.
Use individual mini-dashboards directly on the object and detailed dashboards in the business intelligence (BI) system.
Log and collate data (from sensor readings to ERP postings) in quasi real time to gain near-realtime insights.
Generate historical renderings, for example to identify disruptive factors.
Identify and correlate anomalies.
Analyse incoming data: From simple aggregation, to report generation, through to the application of data science.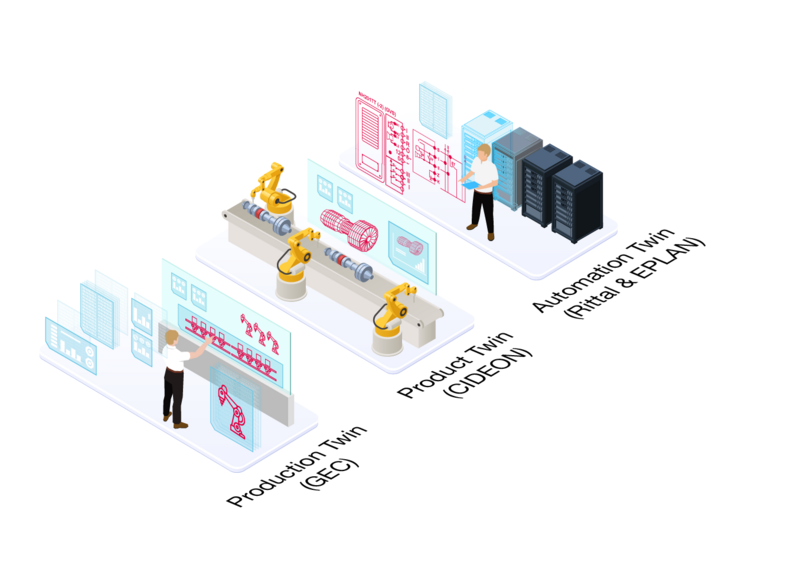 Identify potential bottlenecks and problems rapidly
Boost your production efficiency and flexibility now!
Digital twin at our Haiger plant
The Rittal plant in Haiger, shows in practice how the Virtual Factory works.
The ONCITE Virtual Factory here uses the digital twin for production lines. The integrated ONCITE Software-Service acts as a central data hub and collects the data that accumulates from a wide variety of sensors, harmonises it, and makes it available as a digital twin for data analyses. ONCITE DPS also provides the 3D model of the production line. The continuously generated sensor data (real status view of the plant) is displayed on the virtual image of the respective plant component. If problems arise, they are immediately visible. The system transmits the data in parallel in near real time for detailed analyses. With constantly growing data volumes, the optimal production figures can be determined and even the smallest deviations can be detected.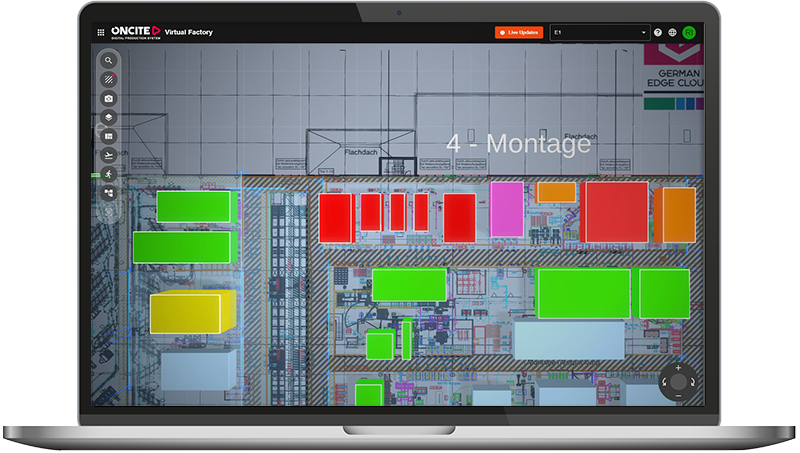 In the best case, the deviations can be corrected fully automatically via the closed control loop, in a move toward a data-driven automation system. These cycles use machine learning to enhance and continuously improve the plant's learning curve. The IoT and low-code development platform provided by the ONCITE DPS combines all production and process data in one place where it can be interlinked, collated and processed. Heterogeneous data is harmonised and converted to a standardised industry data model, condensed into an invaluable source of information.
This valid, structured and standardised database provides user-friendly API access to a range of services, most of which are likewise part of ONCITE DPS. The combination of IIoT and production data allows you to easily generate data analyses and display and evaluate machine status diagrams for any given retrospective period in conjunction with sensor data.
Clever interconnection of digital twins
The challenges currently facing industry cannot be tackled in isolation.
The challenge is to create an overarching interconnection between the worlds of plant, product and production and to optimise processes, including their energy consumption, with the aid of digital assistance. To this end, we create a complete digital twin for each plant, product and production process. The next step is to create smart links between them. German Edge Cloud, Rittal, Eplan and Cideon show how this can be achieved, and the advantages it brings, in a use case.
Smart Factory Apps
Easy integration of software services for demand-driven and cost-effective production optimization.
Energy Management
Transparent analysis and tracking of energy consumption in manufacturing - for improved efficiency and more sustainability.
Low-Code Application Development
Composable architecture guarantees greater agility and maximum resilience in the age of IoT solutions.
Industrial IoT
Keeping track of production processes thanks to consolidated data - for more insights and fact-based decisions.